LCSR hosts Research Experience for Undergraduates
February 16, 2015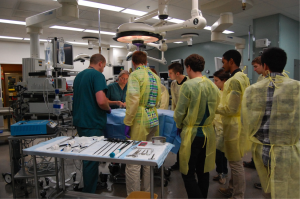 For more than a decade, at the beginning of every summer, a fresh group of engineering undergraduates from different universities across the United States have arrived at the Whiting School of Engineering to start a 10-week intensive research program in Computational Sensing and Medical Robotics. Thanks to a three-year National Science Foundation award that was recently received by the Laboratory for Computational Sensing and Robotics (LCSR), that tradition will continue this summer. Ralph Etienne-Cummings, Chair of the Department of Electrical and Computer Engineering and Suchi Saria, assistant professor in the Department of Computer Science will direct the Computational Sensing and Medical Robotics Research Experience for Undergraduates (CSMR REU) program, slated to start at the end of May and run through the end of July.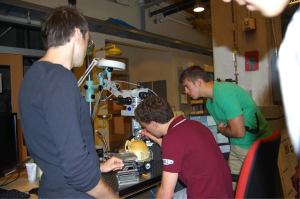 The CSMR REU program is multidisciplinary, offering each participant the ability to conduct research in a variety of fields and encouraging the development of strong collaboration skills. LCSR's ties to the Johns Hopkins Medical Institutions lets participants get involved with cutting-edge research in fields including medical diagnosis, interventions and more. Some of the research projects involve new sensing, imaging, and medical robotics systems, as well as new techniques to enhance clinicians' ability to plan and execute medical procedures. These new or improved surgical and prosthetic systems may reduce surgery and recovery time, minimize surgery errors, reduce costs and improve patient outcomes. In addition to projects related to medical robotics, the program also includes research projects in satellite servicing, power system modeling, computer vision and more.
The program attracts students from diverse backgrounds and focuses on developing a strong pipeline of highly qualified people who have the potential and skills to make long-term contributions to the workforce in areas related to STEM. To enable this, the program also offers participants training in communication skills and research ethics. Working in the LCSR provides women and minority students, in particular, with a rich and challenging environment in which to gain valuable research experience. In the past, students have also visited the National Institutes of Health, the Johns Hopkins Applied Physics Laboratory, and the Minimally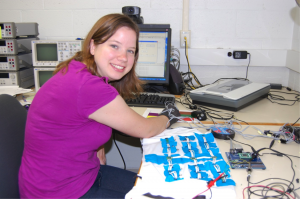 Invasive Surgical Training Center (MISTC) at Johns Hopkins University and to other private companies. More than 125 students have participated in the program over the last decade, and a large majority of them have gone on to graduate schools in a STEM area or to medical schools.