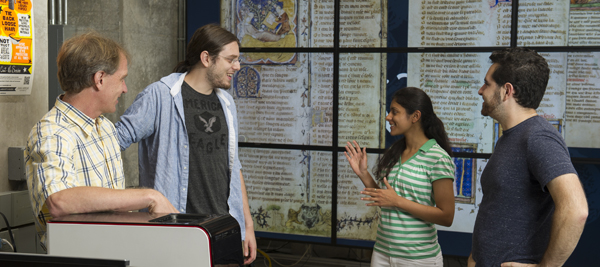 Robotics Club
The Johns Hopkins Robotics club is a group of hackers, engineers, and tinkerers that wants to teach the community how to build interesting things. Whether it be software or hardware, we meet to work on any projects we find interesting, and do everything we can to involve the community.
Contact: hopkinsroboticsclub@gmail.com
LCSR Graduate Student Committee (LGSC)
The LCSR Graduate Student Committee (LGSC) is responsible for representing the interests and concerns of the students in LCSR and for developing rules concerning the usage and allocation of common student resources. The LGSC is appointed by the LCSR director from a pool of volunteers from multiple departments and research groups managed by LCSR faculty.  Learn More
Contact: lcsr-grad-committee@lists.johnshopkins.edu
CISSRS
This student run society was created to provide a bridge between professionals and students, and to realize the interests of students. The Computer Integrated Surgery Student Research Society is open to all undergraduate, graduate, and medical students who are interested in engineering, medicine, or both. Learn More
Contact: Alison Morrow (alison.morrow@jhu.edu).
Others
Society of Women Engineers – JHU Chapter
Out in Science, Technology, Engineering & Mathematics at JHU (oSTEM)
Graduate Queer-Straight Alliance at the Johns Hopkins University
National Society of Black Engineers at Johns Hopkins (NSBE)
Society of Hispanic Professional Engineers at Johns Hopkins  (SHPE)