Announcement

Russell Taylor elected to the National Academy of Engineering

February 10, 2020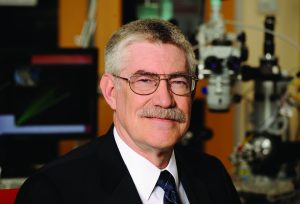 Election to the academy is considered among the highest professional distinctions accorded to an engineer and honors individuals who have made outstanding contributions to engineering research, practice, or education, and to the pioneering of new and developing fields of technology. Members are elected by current NAE members. This is wonderful and well-deserved recognition of Yannis and Russ' accomplishments—as well as of the Whiting School's leadership in engineering research and education and of the impact we are having on the world.
Russ was recognized for his contributions to the development of medical robotics and computer integrated systems.
Russ directs WSE's Laboratory for Computational Sensing and Robotics and was the founding director of the Engineering Research Center for Computer-Integrated Surgical Systems and Technology. His work focuses on robotics, human-machine cooperative systems, medical imaging and modeling, and computer-integrated interventional systems and he is widely regarded as a pioneer in the early development of medical robotics technology and computer-integrated surgical systems. While at IBM's J. Watson Research Center, Russ was the principal architect of what became the "Robodoc" system for joint replacement surgery, the first robotic assistant to be used in a major surgical procedure. Among his other groundbreaking achievements were the development of a surgical planning and execution system for craniofacial osteotomies and a robotic system for minimally-invasive endoscopic surgery, and many of the features and concepts he pioneered are now commonplace in medical robots. Russ is continuing to make substantial contributions in all aspects of medical robotics, including mechanism development, robot systems and control, image analysis and image guidance, human-machine interfaces, and a wide range of application areas, including orthopedics, minimally-invasive endoscopic surgery, image-guided needle placement, ophthalmology, otology, laryngology, sinus surgery, and radiation oncology.
Russ and other members of the newly elected class will be formally inducted during a ceremony at the NAE's annual meeting on October 4, 2020, in Washington, D.C.