LCSR Students participate in Robomaster AI Challenge at the International Conference on Robotics and Automation
July 12, 2018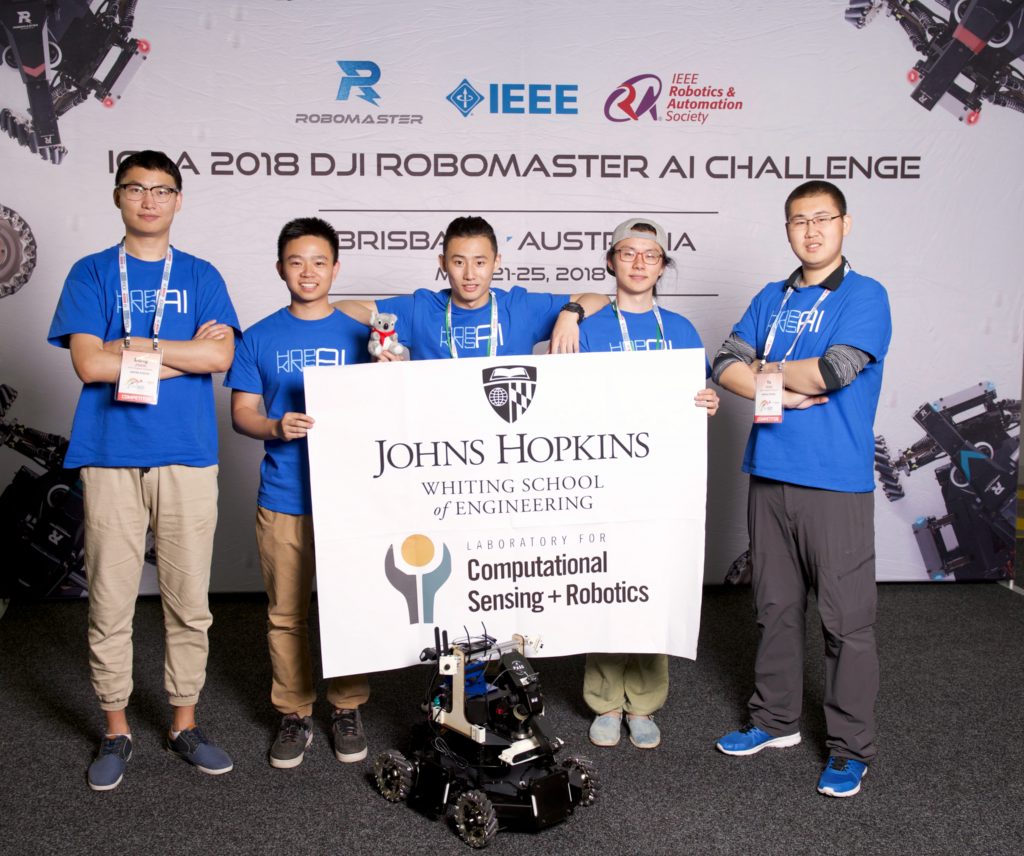 Yuxiang Gao's favorite aspect of the Robomaster AI Challenge at the International Conference on Robotics and Automation (ICRA) wasn't the actual competition. It was the late-night coding sessions, last-minute bug fixing, and sense of teamwork and camaraderie that he experienced.
"Overall, this experience is worth cherishing," said the robotics MSE student from Wuhan, China.
Gao, along with fellow engineering graduate students Jinxin Dong, Junjie Pan, Yu Yang and Ruiqing Yin,represented the Whiting School and the Laboratory for Computational Sensing and Robotics at the prestigious competition, which took place in Brisbane, Australia in late May.
The trio was among the 22 teams worldwide selected for the event, which challenges participants to build autonomous ground robots that use shooting mechanisms to battle it out with other robots in a 17-by-26-foot arena filled with obstacles. Points are awarded or deducted based on hits given or received. The objective? To outperform two "official" AI robots.
"It's very challenging," explained Pan. "The system you develop needs to navigate itself through the given arena, avoid hitting obstacles, track down the enemy robot, aim at any of the armor modules, shoot projectiles, and make decisions about what to do in different situations, such as how to patrol when the enemy is out of view, attack when it finds the enemy, and hide to avoid being hit."
Led by Yin, the team members spent many late nights working on their system for two months preceding the event, and were pleased with their robot's ability to navigate itself through the arena, track the enemy, and shoot projectiles. However, according to Pan, their robot's AI system was less successful.
"One of our biggest challenges was developing the robot's artificial intelligence system to enable it to make decisions directly as a result of information coming in through its various sensors, so that it could determine when to attack, when to hide, when to patrol, and how to avoid being hit," he said.
Yin recalls staying up all night with teammates working on the robot's perception system the day that they arrived in Brisbane, in preparation for the first day's competition.
"However, we underestimated the work of debugging … and couldn't finish in time," he said.
Gao said he was particularly proud of their robot's enemy detection algorithm, which he designed.
"It achieved satisfactory performance with limited resources," he said.
Though the WSE team didn't win, Gao, Pan, and Yin say that the experience was extremely worthwhile and that they hope to take on this challenge again next year.
"Our plan is to continue this project and join the AI challenge in 2019, when ICRA will be held in Canada," said Pan.
Also attending this year's event was Louis Whitcomb, professor in the Department of Mechanical Engineering, who gave the keynote address on using robots to explore under the Arctic Sea, and two of Whitcomb's doctoral students, who presented papers.