Galen Robotics wins BioHealth Capital Region's 3rd Annual Crab Trap Competition
July 12, 2018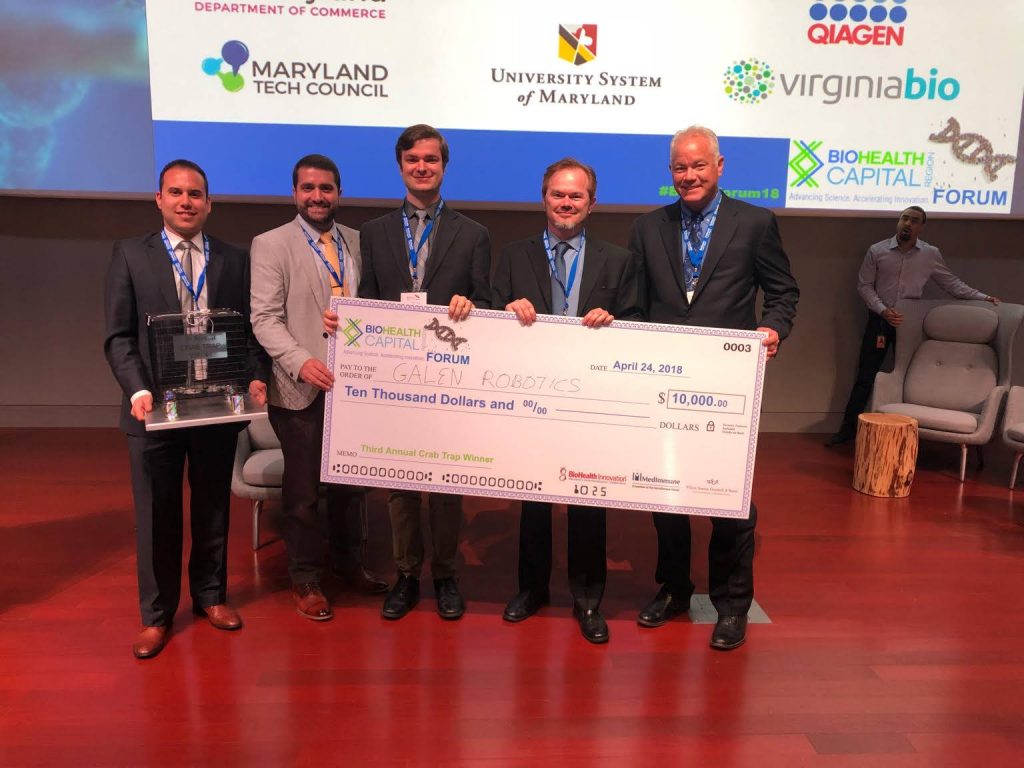 Johns Hopkins University spinout Galen Robotics won the BioHealth Capital Region's 3rd Annual Crab Trap Competition, held in late April at the MedImmune campus in Gaithersburg. Founded in 2016 by BioHealth Innovation, Inc. and MedImmune, the competition spotlights early stage biotechnology companies with commercial potential.
Galen develops cooperatively controlled surgical platforms designed to increase surgeons' precision in minimally invasive procedures. This is the third Hopkins spinout to take home the top prize, with LifeSprout winning in 2017 and Sonavex earning top honors in 2016.
The other four finalists were AlgometRX; Celith Systems; Renalert; and Reveragen Biopharma.
"We could not have been more impressed with all of the participants in the Crab Trap this year. Galen's presentation along with their technological and medical potential makes them very deserving of their award," said BHI President and CEO Richard Bendis in an article on City Biz List Baltimore.
Galen has a strong relationship with the engineering school, including a regular physical presence in the Laboratory for Computational Sensing and Robotics. In addition, several former and current students work with the company, including Yunus Sevimli, who now works for the company full-time, and current CS PhD student Paul Wilkening.