Annual Robotics Industry Day brings together Researchers and Industry Partners
September 22, 2014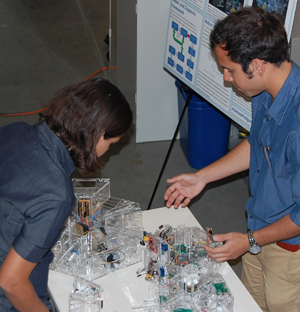 On September 8, the Laboratory for Computational Sensing and Robotics (LCSR) hosted the annual Johns Hopkins Robotics Industry Day. The event was a huge success, attended by a host of people from industry and other research labs from around the country.
The morning started off with LCSR faculty sharing with the attendees the latest developments in the field of Medical Robotics and Computer Assisted Surgery, Human Machine Collaborative Systems, Robots for Extreme Environments and Robotics and Biological Systems.  LCSR faculty have extensive collaborations with industry and the Johns Hopkins Medical Institutions (JHMI) and to illustrate examples of such collaborations, Adrian Treverton from Xstrahl Life Sciences, Dorothee Heisenberg from Clear Guide Medical, and John Wong, a faculty in JHMI who is working on commercialization of a technology related to Quality Assurance in Radiation Oncology, also made presentations. The attendees had an opportunity to hear about the LCSR Partnerships Program which seeks to create long-term, strategic relationships with partners.
The highlight of the day was an extensive poster and demonstration session in the afternoon by researchers and graduate students in the Hackerman Hall Robotorium. Project demonstrations included a wide range of projects like the Surgical Assistant Workstation for Eye Surgery, Collaborative Industrial Robots, Language of Surgery, Cooperatively Controlled Robot for Ultrasound Monitoring of Radiation Therapy, Robotic System for Head and Neck Surgery, Small Satellite Obstacle Navigation etc. Industry members were able to have in-depth conversations with researchers about the various projects. LCSR's Strategic Advisory Board also met on the same day to learn about the recent developments in the lab and discuss long-term strategic plans.